CON BRO CHILL Visits Harlem & National Lax Press Reacts
From LaxAllStars.com:
Editor's Note
: I've said it before, and I'll say it again. We don't publish press releases. Unless they are like this! The guys at Frederick Douglass Academy in Harlem (New York City) sent over a fantastic write-up on what went down earlier this week at FDA when the one and only Connor Martin came to town. There was a ton of lax and excitement, and also some moonwalking. It wouldn't be a Connor Martin visit any other way! Grow The Game! We love you, Con Bro Chill.
---
With pop music blaring from his portable waistband boombox, Connor "Con Bro Chill" Martin entered the blisteringly hot gymnasium at Frederick Douglass Academy (in Harlem, New York City) around noon. After introducing himself to the audience, Connor began interacting with the crowd of 40 boys and girls. He was forced to elevate his voice while providing tips and tricks for the better part of two hours, talking above both the excited cheers of onlookers and the clamor of girls playfully conducting clapping games in the basketball stands.
Among the students there were 20 experienced middle school players (each with anywhere between one and three years of lax under their belts). Additionally, a dozen younger summer campers joined the fun, each of whom had only been handling a stick for a month at most. Nonetheless, Connor was able to cater his performance and the day's activities to all involved. His demonstration included a skillful display of power shooting, carrying the net a good half foot with each crank, as well as a Michael Jackson-inspired dance-off at the session's finale. Most of the appearance was spent by Connor directing wallball drills, a shootaround, and eventually even a mock-game between two squads with Connor being the obvious wild card in the bunch. The winning team had their pick at a large collection of "Flow Society" shirts, shorts and wristbands. But don't feel bad for the losers; everyone went home with at least one pair of sick "Flow Society" shorts.
Below is an account of the day's events, provided by attendee & rising 8th grader from the Frederick Douglass Academy, Ismael Cisse:
My name is Ismael Cisse, and I am from the Bronx. It was fun meeting Connor (aka "Jackson 5 Fan") Martin because he showed us how to do things correctly. For example: shoot hard, catch, and throw. I learned that my side shots were good, but I just needed to lift my arms up a little higher. I've been playing lacrosse for 3 years now, and I'm loving the game. I also learned that it's cool to have a lot of hair, and plus your hair bounces, too.
Ismael Cisse has got a little more Left Coast hipster lean now!
The kids in the group did have a suprised reaction though. They couldn't believe that they were actually getting advise from a pro lacrosse player. His style is cool, and I would definitely consider dressing like that. However, I would need the size of the clothing to be smaller so I could fit in them. My favorite piece of clothing was the monkey/banana shorts, and I really liked the shirts.
The Harlem Lacrosse & Leadership Corporation (www.HarlemLacrosse.org), as well as the players from Frederick Douglass Academy, would like to thank Connor Martin + Flow Society for the fantastic visit. Please see below for some video from the event.
--------------------------------------------------------------------------------------------------------
Original Article from LaxAllStars.com:
Editor'sNote: We almost NEVER publish press releases as news. That's because a release to the press allows us to create a post, but we rarely just re-publish things verbatim. We leave that to the other guys! But this one is worth it, and we don't care if we're the only ones posting it. It's well worth sharing and it combines two of our favorite things: Growing The Game and Connor Martin!
This event, their press release, the Harlem Lacrosse & Leadership Corporation (and everyone involved there!), all the kids at FDA, and of course Connor Martin get the LaxAllStars.com Grow The Game SEAL OF APPROVAL! If Connor Wilson weren't in Florida right now, you know he'd be there!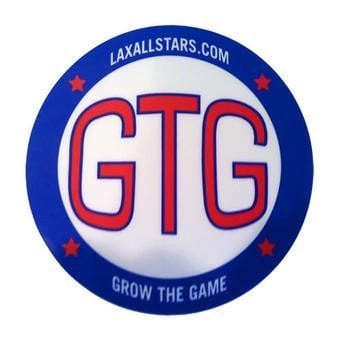 The seal of approval.
We'll have more on this event in the next couple of days, but for now, check out the press release and video below to get to know FDA's lax scene a little better. And learn why the kids just can't wait to meet Flowseiden!
---
Connor "Con Bro Chill" Martin has become a merchandise-pitching sensation. His viral YouTube series satirizes predominately-white lacrosse culture. Martin is slated to meet with the players from Frederick Douglass Academy Lacrosse in Central Harlem. Many of the students, although Black and Hispanic, are huge fans.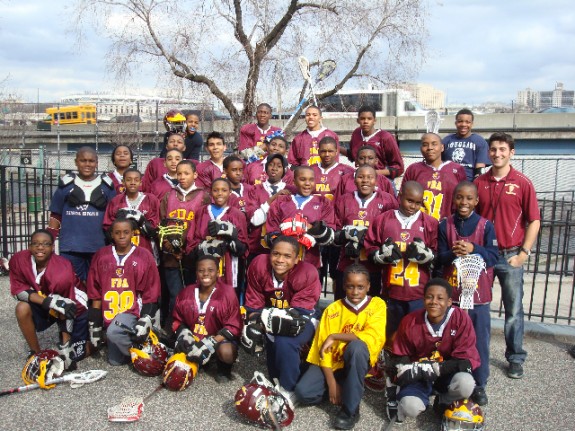 Coach Simon Cataldo (right) with a portion of the Frederick Douglass Academy Middle School Lacrosse squad
"I receive divine inspiration from the flow gods," a shrill voice cries out to its YouTube audience. "Speak to us Flowseidon!"
Millions in the lacrosse world have seen the videos. The speaker, a blond-locked, blue-eyed lacrosse player whose surfer appearance initially screams San Diego more than Garden City, has been dominating the national image of lax culture for the past year. The recent shift in marketing strategy for lacrosse products has been well-documented.
Nowadays, ads for lacrosse heads and gloves reads like something out of Maxim Magazine: Buy the gear, get tough, and get the ladies. The colors are rad, the patterns are obnoxious, and the response from teenage boys (who comprise a significant market share for the goods) has been explosive. New equipment and sports apparel for any novice player can easily cost over $300 at your nearest sporting goods store. As a participant gains experience, the relentless chase for more stylish shorts, custom-designed mesh, and flashier metal shafts only escalates.
In the same way that basketball players swap critiques of their "Jordans" and "Lebrons", lax bros – a term used widely to describe boys who carry themselves with all the necessary lacrosse confidence and swagger – are constantly keeping up with the Joneses. Even hair matters, as players sport longer and longer "flow", sometimes so much that it dangles out the backs of helmets. One player provides a jocular perspective on the rampant materialization and machismo of his game – Connor "Con Bro Chill" Martin.
Martin (who plays professionally for the Denver Outlaws of the MLL) crafted the character "Con Bro Chill" in college just for kicks. After a series of well-known YouTube videos, his running jokes on the importance of "flow" materialized into a profitable selling persona.
Con Bro Chill in action.
Meanwhile, in Central Harlem at the intersection of 149th Street and Adam Clayton Powell Blvd, Simon Cataldo has been building a lacrosse program focused on everything but the gear. Using lacrosse as its primary vehicle, his organization – The Harlem Lacrosse & Leadership Corporation- strives to help children with documented behavioral, emotional and learning difficulties to rise above and become "effective leaders in the Harlem community". With academic tracking, mandatory study halls, hiking trips and even participation in food drives for the homeless, the group has become one of the premier tools for positively affecting these students at Frederick Douglass Academy. For most on the team, ranging from 6th grade all the way through 12th, the only lacrosse gear and clothing they get comes from outside donations.
Strangely, students in the program – all of whom are Black and/or Hispanic – are obsessed with Con Bro Chill. They watch the videos. They jokingly talk to one another with mock Southern-California surfer voices. Some even speak of attending his alma mater, Chapman University in California, over traditional lacrosse powerhouses in the east. What is going on in Harlem? Come to Frederick Douglass Academy on Monday, August 8th at noon, and see what happens when Con Bro Chill addresses the state of lacrosse at the newest, most energetic, and unlikeliest of lacrosse communities in New York.
--
That's right folks, Connor Martin is coming to Harlem! Very cool for both sides to be doing this. It's easy to stick with people who are just like you, in almost every way. It's easy to stay on the West Coast if you're a WC guy and it's easy for East Coasters to only find other EC players interesting… but none of that is happening here. People from very different backgrounds, places, and socioeconomic groups are coming together to make the world a better place, and they are making these connections through ONE medium: Lacrosse.
And THAT, my friends, is what makes lacrosse special. It's not about who is the biggest "bro", who rocks the sweetest swag, or who has the biggest name. It's about a small, but growing community, that just loves to help each other out. Some out there might not agree with me on this subject, and they think it is all about the swag, the bro-osity and fame. So it is our responsibility, the rest of the lax community, to make sure that events like the one above are what we get excited about, and not a new pair of argyle shorts. GROW THE GAME, or get out of the way! Con Bro Chill is doing it… now it's your turn!